VoIP is a modern business phone system that allows users to communicate with one another over the internet from anywhere in the world. VoIP can improve e-commerce operations and could be used to improve cold-calling scripts. These phone systems are suitable for almost any type of business but are particularly well suited for e-commerce retailers.
VoIP allows companies to hire employees in various time zones, resulting in more efficient coverage. They are critical to providing proactive customer service and ensuring that customer complaints are successfully resolved. Furthermore, the best VoIP service provider will alleviate these frustrations by allowing customers to speak to the exact person they want to speak with and by allowing you to listen to voicemail from any location.
Fascinating Features Of VoIP
VoIP (Voice over Internet Protocol) is a popular modern business phone system designed to replace traditional landlines. VoIP is transforming the way people conduct business in various ways, and it is particularly well suited for e-commerce retailers. VoIP allows e-commerce businesses to provide customer service at all-day hours.
VoIP technology allows you to stay connected to your customers and listen to voicemail from any location. This technology allows you to reduce costs without sacrificing the quality of the calls. VoIP systems allow for lower operating costs, enhanced flexibility, and can answer calls virtually anywhere.
VoIP technology is cheaper than traditional landline bills, allowing you to allocate more funds to other aspects of your business operations. Some of its unique and outstanding features are:
VoIP technology allows you to receive or make calls from anywhere.
It allows for greater flexibility in terms of remote or home-based work.
VoIP can help you synchronize your entire business by connecting to other cloud-based technologies such as CRMs.
It allows for real-time interactivity, with several advantages over traditional asynchronous communication.
VoIP integration makes it easier to resolve issues with customers.
VoIP can assist your employees in taking office calls on a mobile phone.
Benefits Of VoIP And Why Choose It?
VoIP is a next-generation business phone system that uses the internet to make and receive calls, and it can help you run your eCommerce business more efficiently. VoIP users can use their desktop computers and smartphones to make calls. It helps eCommerce businesses ensure that their customers have access to an agent. You should include VoIP encryption in your overall cybersecurity plan when switching to a VoIP platform.
VoIP can improve your employees' workflows by allowing them to work from home and answer office calls on a mobile phone. VoIP and VoIP technology can assist e-commerce businesses in supporting an external workforce, increasing the capacity of their call centre, and improving customer satisfaction. It also allows you to hire customer service representatives to work from any location and have complete coverage. The other benefits of using VoIP are:
VoIP allows you to record calls and use them for training other agents.
VoIP technology can route calls effectively and ensure that callers reach the best agent.
VoIP can help you create call flows and intelligent routing that drastically alter the customer experience.
VoIP is significantly less expensive than on-premises phone systems and is easy to budget.
VoIP can be used during emergencies, such as power outages, severe weather, and rolling blackouts, making communication easier.
VoIP can be used as a component of a unified communications platform, which allows workers to communicate with customers and product experts from a single central location.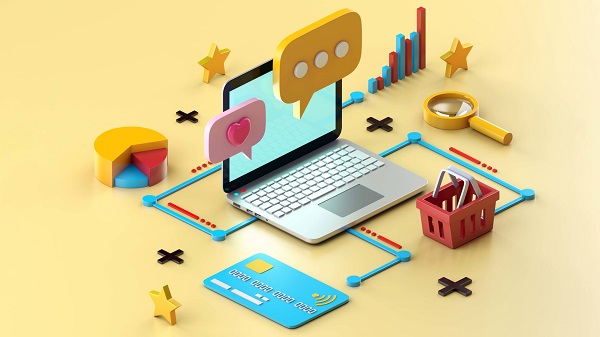 How Does VoIP Support Ecommerce Business And Ways To Improve It?
VoIP allows for rapid communication and provides additional three-way calling, video conferencing, call routing, etc. Those calls are typically much better than landlines as it allows eCommerce organizations to remain flexible and responsive to buyer demands. It helps employees take calls from any location and realigns priorities and budgets. Furthermore, it is possible to integrate VoIP with your CRM to improve customer service. VoIP can help you grow your eCommerce business by improving the customer experience. Let us see how.
VoIP phone systems can improve eCommerce operations by improving communication between staff and customers.
VoIP phone systems are becoming more popular in the eCommerce industry, as they alleviate the operational burden of running an eCommerce store.
VoIP is a low-cost solution for eCommerce store owners, and there are many options available.
VoIP provides five advantages that can positively impact your eCommerce business operations. If you exceed expectations, you will experience increased customer loyalty.
The important features of VoIP are it can help you provide a superior customer service experience for your customers and expand your business globally. It allows you to delegate operational tasks to a remote team and work from any location at any time. VoIP providers help with hiring skilled resources located anywhere in the world. VoIP phone systems can automate tasks, improve call quality, and track performance. They can also reduce the overall cost of running a business.
VoIP phone systems reduce the cost of making a phone call by up to 50%. VoIP integration allows your employees to work more efficiently and provide seamless after-sales services to your customers. It has revolutionized the entire communication process, allowing eCommerce operations teams to work more efficiently and quickly.
VoIP allows the team to maintain a more organized workflow and improve performance overall. The team can also receive urgent official calls on their phones. VoIP phone systems allow you to save money and time by restructuring your existing business communication process. VoIP phone systems can be extremely beneficial if you overburden your organization's e-commerce operations with calls.
Final Words
VoIP technology and video conferencing tools helped prevent downtime during the COVID-19 pandemic. It can synchronize your entire business and connect it to other cloud-based technologies, allowing real-time interaction and immediate feedback. Most importantly, VoIP's CRM and other software integration capabilities can help customers get faster responses to their inquiries. It can increase productivity by providing call centre operators with quick access to information from integrated CRM systems. Last but not least, include VoIP encryption in your overall cybersecurity strategy when switching to a VoIP platform to gain better benefits. Learn More